urn Your Customers into Consistent Car Washers
Increase Individual Customer Profits By Up to 600%
If only, all my customers washed their car two times a month instead of once every three to five months!
That would really turn your car wash into a money making machine. That is what savvy car wash operators are doing by implementing monthly car wash RFID subscriptions. The fact is once you enrol a regular customer into a Wash Plan you have the opportunity to increase your income from that customer three, four, five times or more.
Let's assume a car wash offers their $20 wash on a monthly plan at $40 per month for unlimited washes. So instead of customers, on average, paying you $20 to wash their car once in 3 months they are now paying you $120. That's almost 600% increase in revenue from that customer. From the customer's point of view that's a great deal because they can get $200 (10 washes) or more worth of car washes for $40. But that does not happen in almost all cases – you see it has been proven time and time again in America and Australia that Subscribers wash 2.2 times a month on average*.
Sign 500 Memberships to earn an extra $144,000 profit a year
It costs you $5 in chemicals, water and power to wash a car. So your customer washes once every three months you profit $15 ($20-$5). That's $60 profit a year. With your Subscription Members washing on average 2.2 times a month you profit $29 ($40-$11). That's $348 a year. A whopping annual increase in average profit per customer of $288 or $144,000 a year with 500 Members!
The other big benefit when you operate a Car Wash Subscription is that you eliminate the loss of income due to overcast, predicted rain days and actual rainy days. Your monthly income not only increases but does not dip due to seasonal fluctuations and inclement weather.
What is the Thinking with Car Wash Subscription Washing?
RFID Car Wash Subscriptions work like gym memberships. Gym Members authorise a monthly charge to their credit card with the intention of working out every other day. However that enthusiasm soon fades out and gym visits become less frequent. It is exactly the same with car wash monthly subscriptions. That is why car wash subscription Members wash on average 2.2 times a month.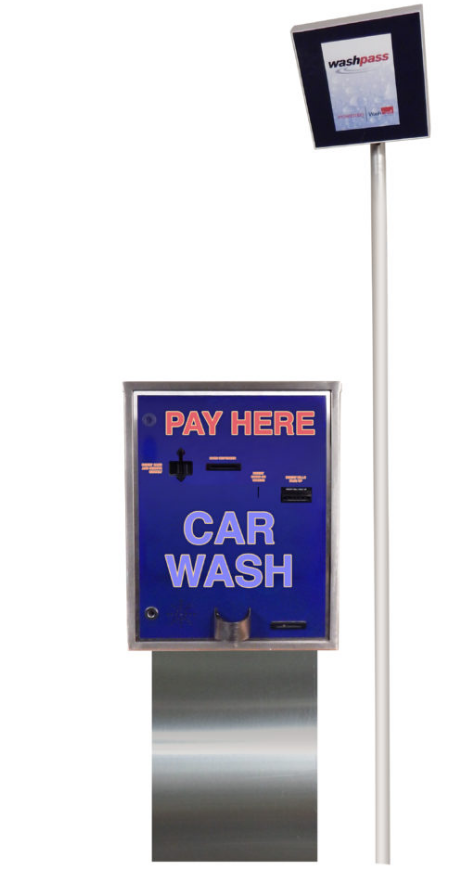 How Does RFID Car Wash Subscription Washing Work
Customers sign up for Membership providing the credit card details to authorise monthly charging of the subscription fee. A vehicle is nominated and an RFID tag is attached to the front windscreen. When the driver pulls up near the automatic entry system an overhead RFID reader scans the tags, confirms with the WashCard System that membership is current and authorises the wash.
The Benefits of WashCard RFID Car Wash Subscription
WashCard RFID Subscription is called WashPass. Some key features and benefits are:
It can be purchased as a stand-alone option or added to existing WashCard installations

It interfaces with any automatic car wash entry system

It is an easy retrofit

The RFID reader can be hard wired or set up with Wi-Fi

RFID tags self-destruct when tampered with, preventing fraud

Automatic recurring billing of customer credit cards
Other features include:
Memberships can be set as pre-paid or invoiced

Add-on option to tie in with self-serve and vacuums
For more information on how to increase your car wash sales through WashCard Systems RFID Car Wash Subscription:
Phone Terry on 1300 304 228 or Complete the Enquire Here section.
*When a subscription wash Membership is priced at 2 to 2.5 times the normal one wash price.